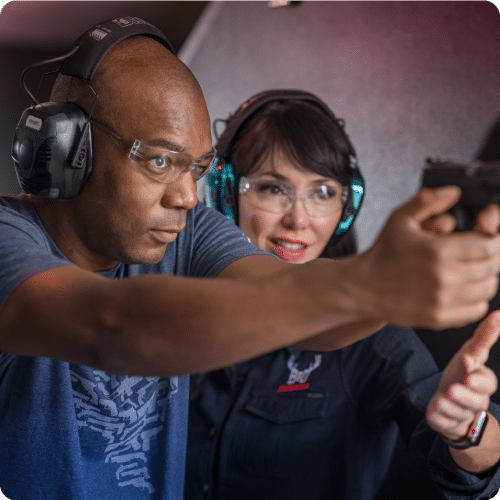 Private gun training is the fastest way to gain skill and confidence with your gun. Buck and Doe's Mercantile offers several handgun classes to introduce you to shooting and firearms, educate you about firearms, and continue to improve your firearm training. However, if you want to learn to shoot or learn to shoot better, but cannot find time in your schedule to attend one of our gun classes, we offer private handgun lessons for individuals and groups. Private gun training caters to the student's specific shooting needs, allowing all students to hone in on their desired skills. Private gun training is your solution. Call 830-980-3637 to schedule your lesson today!
Some of the reasons students come to us for private pistol training include:
How to safely handle a gun
Fundamentals of marksmanship
Grip, stance, aiming, trigger control, follow-through
Concealed carry options
Improve shooting accuracy
Handgun loading and unloading skills
Holster selection and use
Presentation and target acquisition
Target engagement from a variety of distances
Learning to clear basic jams and malfunctions
You can waste time, money, and ammunition struggling to teach yourself when our private gun training can help you diagnose most shooting problems in minutes. With the help of our certified and experienced shooting instructors, you can quickly identify and fix shooting problems with your grip, stance, sight picture, or pistol malfunctions. You will gain confidence in safe handling, marksmanship, and gun maintenance skills. Think of your private handgun lessons in the same context as music lessons. If you practice regularly and meet with your teacher from time to time for another lesson, you will become very proficient and have a lot of fun in the process!
Our one-hour private shooting lessons are geared for the shooter(s) who already owns a gun and desires to work on a specific skill or firearm. Private lessons are also a great way to prepare for the shooting qualification section for those interested in getting their Texas License to Carry permit (LTC). Our firearms instructors have a wide variety of firearm experience so students will be paired with the perfect instructor, whether it's for personal defense, competition, or basic firearm knowledge.
Private training topics can include, but are not limited to:
Improving a shooter's skills
Personal defense
Active shooter drills
Presentation of a handgun from a holster
Maintenance of firearms (field strip and cleaning)
Introducing youth to firearms (minimum age is 6 years old). A parent must be present during the lesson.
AR-15 rifle skills
and so much more . . .
Buck and Doe's Mercantile is committed to promoting firearm safety, responsibility, and proficiency through education and training. Please call 830-980-3637 to learn more about our private gun training and to sign up for a private shooting lesson.
BECOME A MEMBER TODAY
---
Get Exclusive Member Only Benefits
by becoming a Buck & Doe's Member!
---
MORE DETAILS
All firearms must be concealed, holstered or in a case when entering or exiting the building.
SIGN THE WAIVER